GUIDE TO LIFE AND LITERATURE OF THE SOUTHWEST….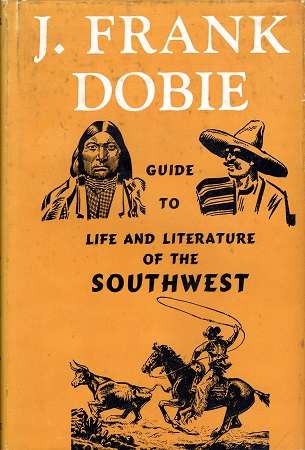 [Bibliography] J. Frank Dobie
Dallas: SMU Press, 1952. Illustrations by Russell, Lea, Bugbee and others. Tan cloth. Revised and enlarged "in both knowledge and wisdom." Very good copy. The dust jacket shows minor soiling, else very good. Adams, Six-Guns 603: "….an excellent check list with comments on many western books, some of which deal with outlaws." Powell, Southwest Classics, p.348: "[Dobie] met departmental skepticism of a course he proposed on the Life and Literature of the Southwest. When his colleagues questioned that there was any literature, Dobie countered that there was plenty of life and he'd teach it. He did both. The course proved legendary. He kept expanding its syllabus until its final publication as Guide to the Life and Literature of the Southwest, then and now the best of all books of its kind." Still extremely useful, it is an essential volume on Southwestern books. Arguably Dobie's most influential work because of the interest it created in Southwestern literature, this is the best edition. Adams, Herd 693.
$ 20.00
# SS8
Categories: