GREATER DALLAS ILLUSTRATED: THE MOST PROGRESSIVE METROPOLIS OF THE SOUTHWEST….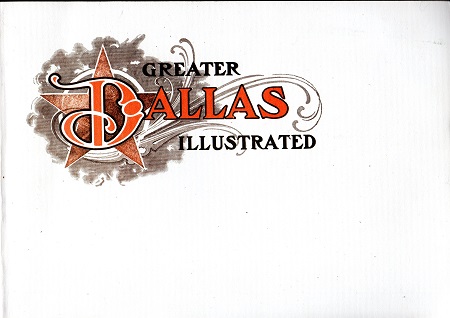 [Dallas] The American Illustrating Co. [comp.].
Dallas: American Illustrating Co., 1908. 33-176pp (in reprinting this edition the first 32 pages, probably advertising, were omitted. Numerous photographs of prominent citizens, homes and businesses. Index to personal names and businesses. Map. Pictorial wrappers. Reprint done in 1992 of the rare 1908 original. Fine copy. A wonderful early promotional piece on Dallas, it gives an overview of the economic base with information on the city's manufacturing and distribution facilities, banks and fiduciary institutions, educational and recreational opportunities. Besides the wonderful photographs and portraits, it contains thumbnail sketches of Dallas' prominent citizens and businesses.
$ 75.00
# ha020
Categories: