CASE OF JUDGE JOHN C. WATROUS.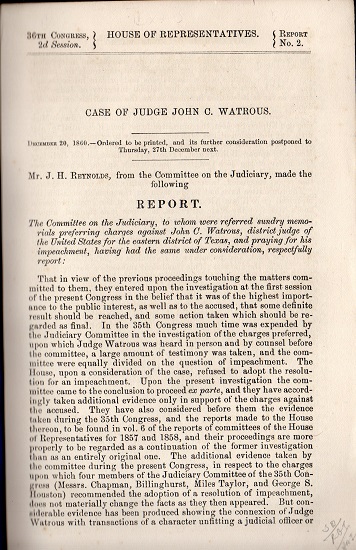 Judge John C. - Impeachment] House of Representatives – 36th Congress [Watrous
Washington: Government Printing Office, 1860. 286pp. Index. Bound in later stiff blue wrappers with paper label on the front cover. First edition. The overhanging edges of the wrappers show the expected crimping and one short tear has been closed with acid-free archival tape. The pages are clean, bright and free of foxing. Internally, it is fine. John C. Watrous was nominated by President Polk on May 27, 1846, to the newly authorized United States District Court for the District of Texas. He was confirmed by the Senate on May 29th of the same year. After his appointment he came under severe criticism because of his alleged validation of forged land certificates. These charges resulted in the Texas legislature passing a resolution in 1848 asking the judge to resign. He did not. In January, 1851, impeachment proceeding began in the United States House of Representatives with the presentation of three petitions (referred to as "memorials"). The charges were: violating Texas statutes punishing those dealing in fraudulent land certificates, misusing his judicial influence, and holding sessions of court improperly. After numerous investigations, the case was dropped on December 15, 1858. However, complaints continued to be presented at each session of Congress. On February 3, 1859, Sam Houston delivered a scathing attack on Watrous and, once again, impeachment proceedings were initiated in the House of Representatives. This report, printed December 20, 1860, is the culmination of the proceedings against Watrous. It reproduces some of the testimony from the earlier impeachments but, more importantly, it presents a great deal of additional information. With WorldCat showing no copies, it is a primary source on this subject.
$ 285.00
# [hbj006]
Category: