BUTCH CASSIDY, MY BROTHER.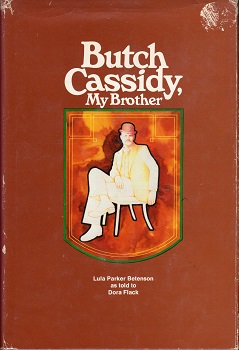 Lula Parker as told to Dora Flack. Betenson
Provo: Brigham Young University Press, 1984. xiii,265pp. Index. Bibliography. Frontis. of Robert LeRoy Parker (a.k.a. Butch Cassidy). Photographs. Facsimiles. Maps. Reddish brown cloth with the title on the cover and spine in white ink. First edition, third printing. Minor rubbing to the corners and edges with one corner bumped. Overall, a good+ copy. The pictorial dust jacket exhibits a circular rubbed area to the front panel and other minor wear, overall, good. Butch Cassidy grew up in Circleville, Utah, the son of a Mormon mother and Jack Mormon father. At eighteen he left the family and started his life of crime. Even today controversy still swirls around whether he was killed in a shoot-out with Federales in Bolivia or escaped and returned to United States. According to the author, in 1925 Cassidy ended a forty-one year absence when he visited the family. He expressed his remorse at the angst he had caused them and recounted his misdeeds in response to his relatives' questions. Because he had started a new life and gone "straight" for sixteen years, he swore the family to secrecy. As his last direct descendent, the author felt the time had come to break her vow and tell the story.
$ 60.00
# [cbb0011]
Categories: