ABILENE ON CATCLAW CREEK: A PROFILE OF A WEST TEXAS TOWN.
SIGNED FIRST EDITION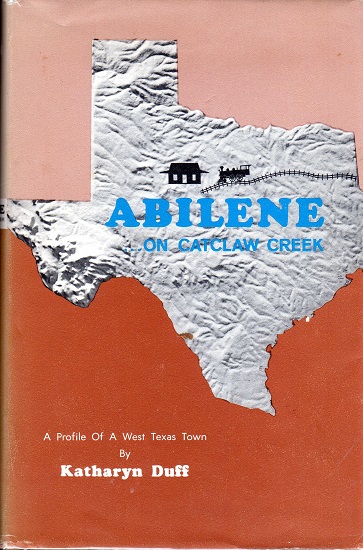 Katharyn. Duff
Abilene: The Reporter Publishing Co., 1969. xi,298pp. Index. Photographs. Maps (2). Appendices. Light brown decorative cloth with title on spine. First trade edition. SIGNED. The book is a fine copy. Sunning to the spine of the dust jacket with edgewear and a triangular chip at the top of the back panel, overall, good+. The author, a reporter for The Abilene News, presents the history of Abilene from its founding in 1881 into the mid-twentieth century. Its genesis was as a shipping point for the surrounding ranchers to send their cattle to market via the Texas and Pacific Railroad. As such there is much on the surrounding ranches and their owners. Additionally, there is information on early settlers, the Comanches and the string of forts to protect settlers from them, the growth of the city, prominent citizens and civic leaders, growth and development of the business community, impact of the World War I and II, etc. The appendices contain the 1880 census for Taylor County, marriage licenses from 1878 to 1888, muster roll for Company I, 7th Regiment for World War I, and a superb collection of photographs depicting Abilene's history.
$ 45.00
# bbd0035a
Category: