A WAY OF WORK AND A WAY OF LIFE: COAL MINING IN THURBER, TEXAS, 1888 – 1926.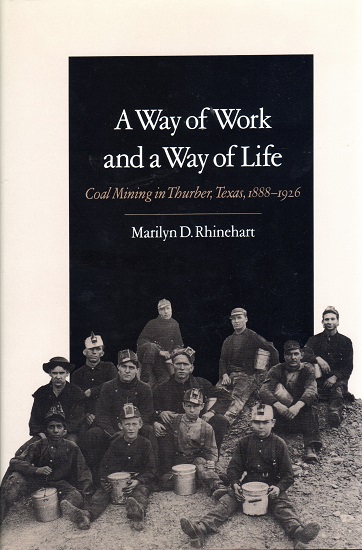 Marilyn D. Rhinehart
College Station: Texas A&M University Press, 1992. xvii,167pp. Index. Bibliography. Notes. Photographs. Tables. Black cloth, title in silver on spine. First edition. Fine copy in an equally nice dust jacket. In 1888 Robert D. Hunter and his Texas and Pacific Coal Company founded the town of Thurber, located midway between Fort Worth and Abilene on what is now Interstate 20. It was the classic isolated company town where every building from the church to the saloon was owned by the TPCC. The company provided everything from social services, like the doctor and newspaper, to the company store. For almost forty years, they mined coal and owned and operated every aspect of the town. Thurber was not unique for there were many isolated coal towns in the late 19th century where organized labor was a force to be reckoned with. The unique aspect was the large number of ethnic groups that made up the labor force, many unable to speak English. The author examines this impact as she analyzes the interaction of these groups, the demographics and social life of the community, and the benefits of and constraints of life in a company town. In writing this book, the author relied heavily on primary sources.
$ 20.00
# bbf0016
Category: