6,000 MILES OF FENCE: LIFE ON THE XIT RANCH OF TEXAS.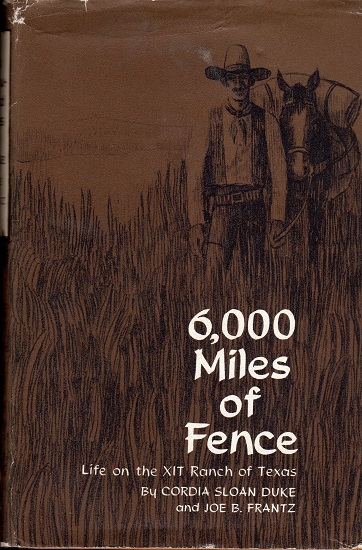 Cordia Sloan Duke & J. B. Frantz.
Austin: University of Texas Press, 1961. xvi,231pp. Frontis. portrait. Index. Appendix. Photographs. Maps (3). First edition. INSCRIBED by M.K. Brown, who underwrote the range series bearing his name. A clean, near fine copy. The dust jacket shows chipping at the head and toe of the spine with a larger triangular piece missing from the back panel and some edgewear, overall, good. Jenkins, BTB 82(n): "An old cowhand told Haley that his book viewed the XIT through the eyes of its owners, and that Lewis Nordyke's Cattle Empire (N.Y.: Morrow, 1949, 273pp.) viewed it through the eyes of the managers and foremen. This left the story from the viewpoint of the cowhand still to be told. This gap was amply filled in Cordia Sloan Duke and Joe B. Frantz, 6,000 Miles of Fence: Life on the XIT Ranch of Texas (Austin: University of Texas Press, 1961, 231pp.), which combines the recollections of some eighty XIT cowhands in order 'to let the XIT cowboy tell the story of his workaday world as he saw it, stripped of the false heroics…'" King, Women on the Cattle Trail…, p.15: "Personal accounts of life on the XIT Ranch includes a few women's experiences." Cordia Sloan Duke was the wife of the last XIT general manager to run catle and she writes with a unique perspective. This is volume number one in the venerable M. K. Brown Range Life Series.
$ 75.00
# [bcj028]
Category: